As irrelevant as this post (compared to my past ones) will seem, I would like to say this loud and clear:



TOKIO HOTEL ISN'T WORTH SHIT COMPARED TO H.I.M.
FOR THE SAKE OF MOSES, STOP COMPARING THEM!!! It's more of an insult than anything else.
If you have no idea what I'm talking about, that's fine, ta-ta, move on. I'm about to start a ranting session that will infuriate any Bill Kaulitz worshipper if this graces their eyes.
I've willingly listened to some tracks from Tokio Hotel over the past few years, and it hasn't been difficult for me to conclude about the roots of their "success."
Music wise, this band is very, very, very average. As Sign and Sight commented " [Tokio Hotel's music] is
straightforward pop-rock
with catchy melodies and a well-calculated mix of stolen Metallica riffs and romantic ballad elements. Everything is played on the safe side..."
But of course, there are the superficial elements. For young, unhappy German girls across the sea, Bill is their ideal (imaginary) idea of love. They adoreee his androgyny and his underwhelming level of manliness. They swoon when he gives (panda inspired) makeup tips with a smile in interviews. "Oh, why can't all guys be this understanding?" they question with charcoal butterflies in their hearts.
Needless to say, the exceptional girliness of lead singer Bill Kaulitz hasn't met strong approval from German males. To put it simply, it's questionable whether this pop-rock band has a substantial male fan base at all.
To steal from Sign and Sight once again, "What is attractive for girls is evidently extremely irritating for many boys. "They're a
bunch of fags
," is the typical put down by Tokio-Hotel detractors. An out-and-out battle has broken out between attackers and fans, wonderfully documented in the respective Internet forums."
All in all, we can conclude that
Tokio Hotel is a fairly one-dimensional band.
Now onto H.I.M. Needless to say, my opinion will be undoubtedly biased because of my fanaticism for the band for the last three years. But there are things that I can point out that are fact.
Fact One-
Unlike Tokio Hotel, H.I.M. is overwhelmingly accepted in its native country (Finland). Ever since 1999, they've played in almost every Finnish rock festival, from Ruisrock in 2001 (a Turku-based event) to Miljoona Rock in 2007. Ville Valo was even voted as the "13th greatest Finn" on a national TV show.
Fact Two-
In contrast to the inevitable screaming seen with Bill Kaulitz popping on stage, every member of H.I.M. is dynamic, distinct, and appreciated. Fans love drummer Gas for his teddy-bear likelihood, guitarist Linde for his dreads, charming quietness, and kick-ass shredding, Burton for his brooding, and Mige for his sloppy yet loveable appearance and his dynamic interaction with Ville. And of course, H.I.M. fans love Ville for his charisma, his devotion to music, and his soul.

To quote someone from an on

line forum- "
You can't have one with out the other! Without the genius of Ville's words and voice, there wouldn't be HIM... and without the talents of each of the members, Ville's lyrics would not come to life..."
Fact Three-
H.I.M. has molted and evolved over the years. From the almost thrash metal-y sounds of H.I.M in 1996 to Ville's poetic, romanticized croons of the Love Metal Era to the deep, dark grottos of Venus Doom, H.I.M. is a highly versatile band to say the least. Whereas Tokio Hotel is, as I've put it, a one dimensional band, H.I.M. is a growing, dying, and blossoming flower. ugh got to change the wording, sounds so corny



Fact Four-
Ville's vocals are simply better than Bill's. As voted on metalfromfinland.com, Ville was voted as the "Best Finnish Vocalist from 2007." From his amazing range (listen to "Sleep-walking Past Hope" and "Razorblade Kiss" to sample) to his distinct voice (anyone who's can't immediately recognize Ville's voice probably hasn't listened to more than 1 1/2 H.I.M. songs). Does anyone find it sad that Bill Kaulitz sounded better as a 13 year old than he does now?




Fact Five (put bluntly)-
This... is more appealing than THIS..........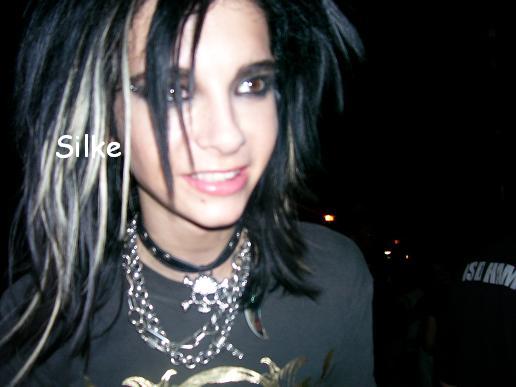 (unless you happen to be of the raccoon species)



Fact 6-



H.I.M. DOES have a substantial male fan base (apart from skateboarding MTV-jackass Bam Margera that is, sigh)





When you look into the audience of a HIM concert (been there once), you see fans young and old, both male and female. Let's see if Tokio Hotel's army of 16-year old
mädchen
can beat that!